Be warned: if you love dogs, you're about to see so many adorable dogs that you aren't going to know what to do with yourself. I had the privilege of starting to work with Josh and the amazing team at Off-Leash K9 Training in February, and I've had so much fun getting to know them and the amazing work that they do. In fact, I've been so impressed that I'm sending my dog, Luna, to their two week board & train program (she's crazy, y'all). The reviews speak for themselves when it comes to the hard work that they do. We've been working on creating some fantastic content for them to use on their website (see here) and online on their social media channels (follow them locally on Facebook and Instagram), as well as managing those social media channels for them.
One of the things that they pride themselves on is that it's not about the age or the breed of your dog – it's just about your dog living their best life in harmony with you. Dogs WANT to be trained, and it's clear from each session that I've done with them that the dogs love being trained just as much as the trainers love working with them.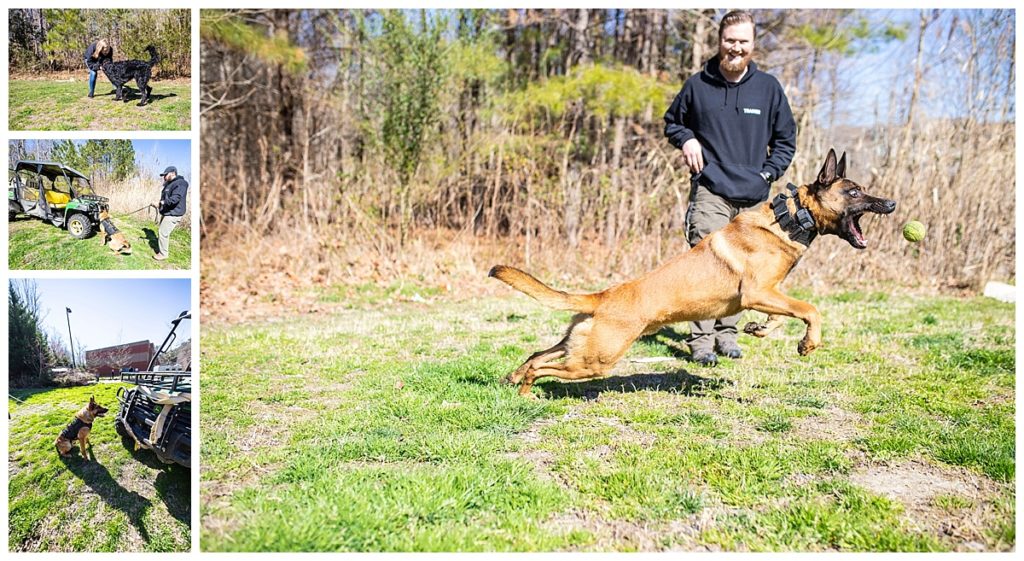 One of the coolest things about their board and train program, specifically, is that they take the dogs out in real life scenarios to make sure that they're able to handle that off-leash life. Whether they're working with them on basic commands with distractions (like people they don't know walking by, other dogs, cars, etc), or they're working on teaching them things like tracking, they've got the system down.
This week, we spent some time in Colonial Williamsburg and it was amazing to see how well the dogs did while they were out and about. Some were at expert level, and some were puppies that were just starting this week, and their patience and dedication to making sure that each dog produced fantastic results was amazing.
That was just three sessions to create some awesome content for them. We use them across all their platforms – they have locations in Hampton Roads, Charlottesville, Fresno and the Bay Area of California. It's always been a sticking point of mine that you've got to make your content work for you – and getting awesome behind-the-scenes pics like this for your business is such a fantastic way to do that. Send me a message if you want to learn more. And need a dog trained? Contact Off-Leash K9 Training!